Rehome or Rescue a Silver Fox
Black Foxes UK discreetly assists organisations and private keepers in the placement of silver foxes in need into secure, suitable and knowledgeable forever homes. Providing support and a lifeline for keepers and their foxes.
Are You in a Position to Help a Silver Fox?
What are silver foxes?
The domesticated silver fox, also known as the farmed North American Red Fox (vulpes fulva), is a divergent species of the red fox (Vulpes vulpes). This North American species has been intensively and selectively bred by the fur trade since the late 1800's. The process has resulted in over 70 different colour variations, most of which could not naturally occur in wild populations.
The farming of silver foxes began in the UK in the early 1900's and came to an end at the turn of the millennium, when fur farming was banned. Despite the ban, the sale and import of fur is still permitted in the UK and people continue to breed silver foxes to this day. However, instead of becoming pelts, they are now kept as exotic pets and educational ambassadors.
The keeping of farmed North American red fox or silver fox is a legal, specialist hobby for those with specific interests in exotic animal management, welfare and behaviour. Silver foxes are extremely difficult to manage compared to other animals and their behavioural needs are complex. They are not like cats or dogs but are in fact, uniquely vulpine.
They are tenacious animals that have behaviour towards man that differs slightly from that of their wild kin. There are also several things that cannot be portrayed correctly, without the other party having met a silver fox first hand - from their possessiveness and destructive tendencies to their independence and how strong they smell.
Are they domesticated?

Silver foxes in the UK are not domesticated for tame behaviour like those you may read of in the Russian experiment, instead they have been domesticated for their fur only and have behaviour that makes them bolder (not tamer) around humans, compared to their wild kin. It takes time and patience to nurture a bond with a silver fox and their unique behaviour can make it a challenging, if rewarding process. When rehoming a silver fox, it is important to know that it can take anywhere from a few months to a few years for a silver fox to fully adjust to a new home and keepers, depending on the fox.
Very few would recommend keeping a silver fox as a pet, even among keepers. They are not companion suitable for most people. It takes a special sort of person to dedicate their life to ensuring the welfare of such an animal, but for those rare few, it's possible for a mutually beneficial relationship to be nurtured.
The Rehoming Process & Policy
Our foxes are rehomed home-from-home, often as an urgent need (due to the potential for escape, inbreeding or infighting). Because there is so little information available on the difficulty of keeping this species and because there are so few foxes kept with even fewer available for rehoming each year, we do not advertise animals directly. Instead, we have a formal waiting list of vetted applicants available in advance.
We will advertise for applicants, as required, on our Facebook account or you can apply today via our web form.
Application

Foxes become available for rehoming sporadically throughout the year and we can often have a high demand. It may potentially be some time before applicants are successful, please be prepared for this.
Foxes are NOT rehomed on a first-come-first-served basis, but to the home that is most suitable in meeting each individual foxes specific needs. Our main focus is the best interests of the animals involved, though amount of time on our waiting list is taken into consideration.
Application does not guarantee shortlisting but all applicants will be informed by email when there is a fox available for rehoming. Details of the fox will be provided in this correspondence. All applicants who respond will be considered for shortlisting.
Those who do not make our shortlist or those who do not fully meet necessary requirements will be informed and it will be explained as to what is required to potentially be successful next time.
The amount of time applicants are on our waiting list can range from a few weeks to a few years, depending on need and circumstances. As an idea, we rehomed 23 foxes between 2017-2021.
Application is intended for the well-researched, intent on providing a safe and secure forever home for a silver fox in need; where they will be nurtured and well provided for for the remainder of their lives.
Requirements

All applicants must be over 21 years of age, financially secure and either a homeowner or have a secure tenancy and landlord permission (evidence required).
All applicants must be able to provide a minimum of a 100 square foot enclosure once shortlisted and prior to rehoming (evidence required).
All applicants must be able to provide a minimum of 4 hours a day to dedicate to their foxes daily enrichment, training, care and management.
Successful applicants must register with a vet willing to treat foxes at least a week in advance of rehoming. Please make sure you have such a vet available locally, prior to any application.
Due to the nature of the silver fox and their difficulty adjusting to new environments there must be no children under 7 years in the home. Any contact with children over 7 years must be supervised by an adult aware of fox behaviour at all times.
Successfully shortlisted applicants must be available for a Virtual Home Check

to verify suitability of the match and environment.
All applicants must have a minimum of 1-2 years research and/or experience working with foxes and/or exotic mammals. Qualifications in animal management or behaviour are also preferable.
If for any reason, a rehomed fox requires rehoming again, we expect to be contacted to make the necessary arrangements. For those that do settle, regular updates are appreciated but not expected beyond a 4 week and 4 month update.
Foster or Rehome?

You can also decide whether you want to foster a silver fox in need. Fostering is for a minimum of 6 months and a maximum of 2 years (with exceptions made where needed).
The same requirements for rehoming a silver fox (above) must be met for fostering also.
Once you've made the decision to take on the responsibility of a fox temporarily, we'll work with you to plan the next steps when the need becomes available.
Are there any fees and charges?

All foster and rehoming services are currently free services, funded by our Community Interest Company and it's operational works.
Please also consider donating to our support fund. Every little helps!
Arranging Animal Transportation

Transport must be arranged between the current and prospective owners.
We will assist you with making sure all the necessary arrangements are made and that everyone remains safe. We can also advise on suitable animal transport organisations, if necessary.
Do note that where possible, we prefer arrange homes within one hours travelling distance from where the fox is being cared for.
Need to Rehome a Silver Fox?

We're sorry you are having to make such a difficult decision and will support you in every way we can. We are also able to provide advice and behavioural consultation, if this would prevent the need for rehoming.
We are Here to Help!

When you take your new fox home, that's not the end of the journey for us. We offer ongoing advice and are always here to help. We also have a group on Facebook which covers health, behaviour and care advice for this fascinating species.
If you think you meet the requirements and are ready to take on such a challenge, you can immediately apply to join our waiting list by filling in our online application form.
Please note that all prospective new owners and foster carers must complete this form for consideration.
The information provided will be held indefinitely in order to match and contact you regarding the rehoming or fostering of a fox. If you wish to be removed from our waiting list, simply contact us by email stating your request.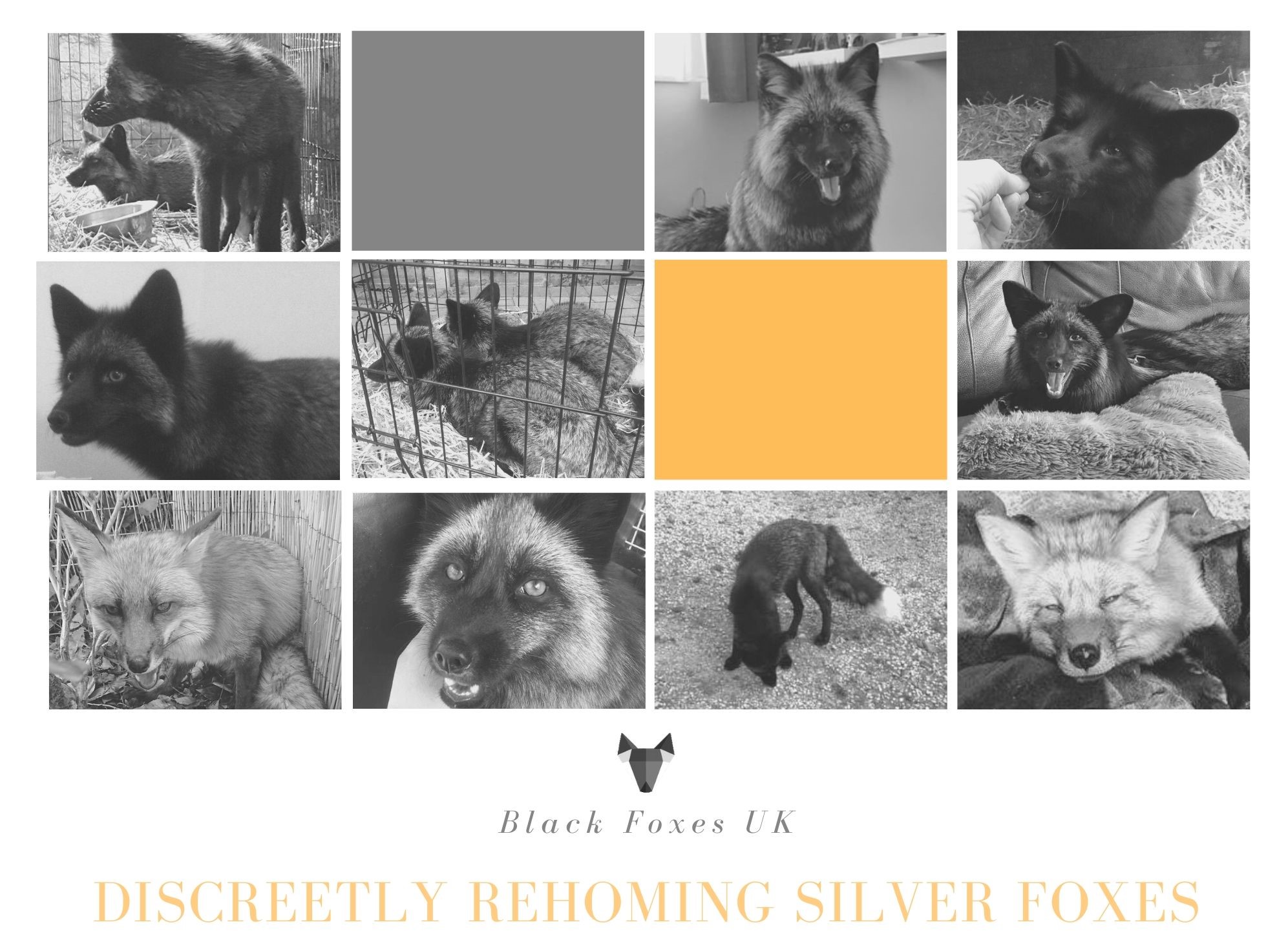 We are committed to ensuring compliance with the government guidelines in place to keep people, pets and customers safe as a result of Covid-19. Our online rehoming process allows us to rehome foxes to suitable homes where it is necessary and safe to do so. We ask our customers and collaborators to kindly be mindful of guidelines when working with us also.