Raising Awareness Since 2015
Black Foxes UK provides professional and expert advice to those wishing to inform about this species. We strive to provide a variety of community outreach and education programs to help raise awareness of the silver fox.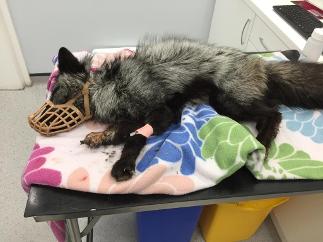 "An abandoned pet silver fox has had its foot amputated after being caught in a snare in Barry. Black Foxes UK CIC had been attempting to rescue the female, which they have called Luna, for two weeks and say a suspected male fox is still on the loose with an injury to either it's front left or rear leg... "There will be a team of keepers available should there be any need. They are known to be escape artists and difficult to keep as pets. "Keepers learn in their first year how hard it is to contain them."
Community Outreach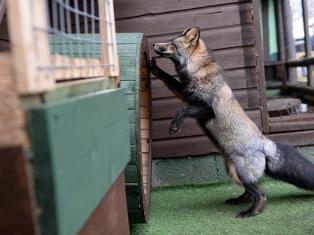 "Also present on the day was Hayley de Ronde of the Black Foxes UK organisation, and she gave a speech explaining the difference between Barnaby and indigenous foxes in the UK"
Education Outreach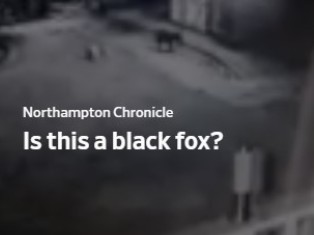 "There is even a website devoted to sightings. They largely disappeared from the UK after being extensively hunted for their distinctive fur.
A spokesman for blackfoxes.co.uk said: "The black fox is a rare sight in the UK and is something of a mythological creature."
Wildlife Recording
*While there are potential sightings of wild melanistic foxes in the area, there are also keepers and temporary escapes occur. We work with keepers and locals to ensure missing pets are identified, captured and returned to safety swiftly.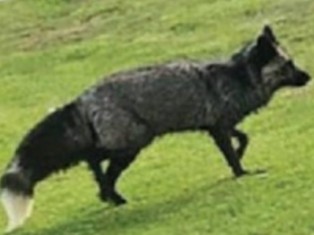 "Brian Downard from BPCA member company Multipest, sent us this amazing picture of this uber-rare black fox. Spotted somewhere in the
East of England, the black fox is a rare treat for any wildlife enthusiast to find.
The frequency of black foxes seen in the UK has been historically low and such sightings appear far less frequently than in other areas of
the world – less than 0.01% of the population says blackfoxes.co.uk"
*We were in contact with the BPCA after their report to thank them for providing our information and to inform them that this particular fox was in fact a missing pet, with an agreement for them to contact us with any future sightings.
Wildlife Recording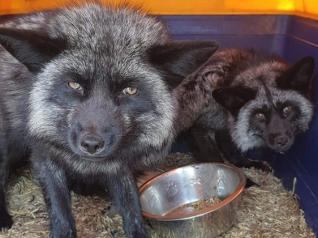 "Black Foxes UK said...These escaped foxes are not a native species. "The UK remains a world centre for the trade of 15 million fox pelts a year, despite a ban."
Mr Aston added he had contacted Essex Police and the RSPCA about the foxes."
Escapee Assistance & Containment Advice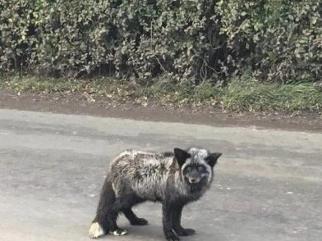 "A rare black fox has been spotted wandering the streets of Tarleton. The fox was caught on camera by a local farmer at the junction of Middle Meanygate and Taylors Meanygate, between Banks and Tarleton on Wednesday. Black foxes have been hunted almost to extinction in the UK for their unusual fur - however, there has been an increase in the number of reported sightings in the past few years, according to wildlife volunteer group Black Foxes UK"
Wildlife Recording & Escapee Assistance
* The above fox was an escapee reported to ourselves and was successfully recaptured.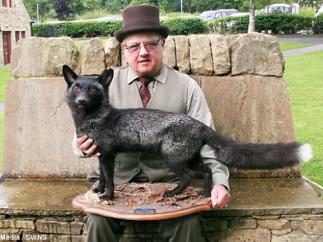 "Hayley de Ronde, spokesperson for Black Foxes UK said she believed the recent sightings were descendants of the one filmed by 'Black Fox Bob'. The former zookeeper said: 'We have a suspicion that the most recent sighting is the same fox and a relative of Black Fox Bob's...
'There is certainly a higher concentration of melanism in the area than you would expect. ' It is also possible that the appearance of melanism
in UK foxes is natural and it is topography and inbreeding that is keeping the gene expressed in small communities. 'I hope we find out one day! 'I don't think the Halifax sightings are lost pets. 'Melanistic animals are naturally bolder than their non-melanistic counterparts, and now breeding season is over and weaning is about to begin it may be that the fox just felt the need to take advantage of what people's gardens had to offer.'"
Wildlife Recording & Escapee Assistance
* While the above statement is true for the majority of sightings in and around Halifax, it came to light after the news report that this fox was a missing pet. We were able to assist with its recapture and collection.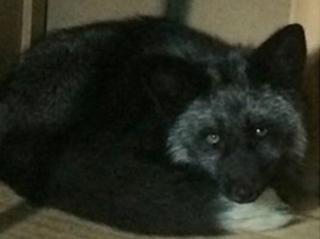 "Misha, a captive bred female silver fox, went missing from her owner's home in the Red Hill area of Stourbridge in June 2017. Desperate searches to find her remained fruitless, until a sighting was reported to wildlife group Black Foxes UK this week.
Wildlife watchers contacted the team after they spotted a similar looking fox in Stourbridge on Thursday, October 17. The team could not confirm the exact location, but said the site she was spotted on is due for
redevelopment, so she needs to be located soon for her own safety. Black Foxes UK are now appealing for anyone who spots the animal to get in touch so they can bring her to sanctuary."
Wildlife Recording & Escapee Assistance
* Despite attempts to raise awareness of her escape, with a few positive sightings, we were ultimately unable to locate Misha for recapture. We received several potential sightings over the years, but nothing we have been able to act upon. Without further reports, she is presumed deceased.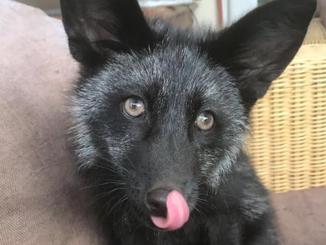 "Hayley de Ronde, spokesperson for Black Foxes UK said: 'We have a suspicion that the most recent sightings is the same fox and a relative of the famous Black Fox Bob. 'There is certainly a higher concentration of melanism in the area than you would expect"
Escapee Assistance & Rehoming
* Wilf was a known and reported missing pet (it was not the first time he had escaped). The newspaper misquoted us from another article regarding a different fox. He has since been rehomed by ourselves to a more secure location on behalf of his previous owner.